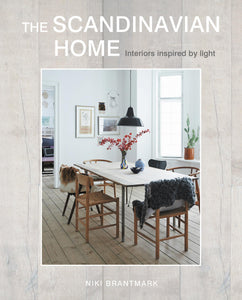 The Scandinavian Home
Niki Brantmark
Regular price £25.00 Sale
Interiors inspired by light
Discover classic and contemporary Scandinavian style with specially commissioned photography of homes in Denmark, Norway, Sweden and Finland.
Scandinavia is famous for its distinctive style: homes are pared-back and simple, and form and function are combined to create aesthetically pleasing and practical interiors. Scandinavians are inspired by light, having an abundance of it in summer but so little of it in winter, and house designs tend to maximise the amount of natural light that enters the home, and allow the inhabitants to make the most of outdoor life during the summer. Similarly, nature and the weather are major influences: homes are made warm and cosy for the freezing winter months – not just literally with log burners, but also through incorporating wood and natural materials.
In this interiors book Niki Brantmark, owner of the interior design blog My Scandinavian Home, presents a wide-ranging collection of these beautiful homes and explores how the Scandinavian lifestyle is reflected in them all. From minimalist or bohemian urban living to soft country homes and spectacular rural retreats; this collection of stunning interiors will put Scandi style within every reader's reach.