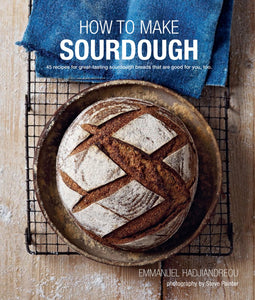 How To Make Sourdough
Emmanuel Hadjiandreou
Regular price $26.00 Sale
45 recipes for great-tasting sourdough breads that are good for you, too.
The definitive book showcasing the variety of sourdough breads and pastries, from the author of the award-winning 'How to Make Bread'.
You'll be amazed not only by the flavour and variety of wonderful sourdough recipes on offer in this book, but by their simplicity. First learn how to make the sourdough starter with simple step by step instructions. Then follow a comprehensive guide to making the dough, kneading the dough, and shaping, preparing and baking a basic sourdough loaf.
From there, you'll discover exciting breads made with some of the hugely popular ancient grains and some delicious rye recipes, such as New-York-style rye sourdough. There are flavoured sourdoughs including classic combinations such as Tomato & Olive and more unusual recipes such as Halloumi & Mint. A chapter on Speciality Sourdoughs will teach you how to make the perfect Sourdough Baguette and Ciabatta, as well as festive favourites, such as Panettone. There are gluten-free recipes, as well as a selection of sweet sourdoughs and sourdough snacks too.