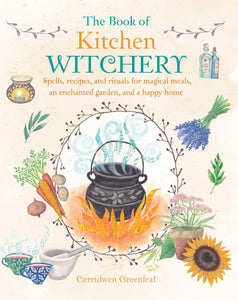 The Book of Kitchen Witchery
Cerridwen Greenleaf
Regular price $20.00 Sale
Spells, recipes, and rituals for magical meals, an enchanted garden, and a happy home
Turn your kitchen into a pagan power centre using herbs, crystals and spells for health, wealth, love and happiness.
In this gorgeously illustrated book, Cerridwen Greenleaf has gathered all of her knowledge of spellcraft to tell you everything you need to know about kitchen witchery. Recipes and spells that have been handed down through many generations will help you find good health, luck and love and the meditations and charms will help you create a happy home filled with magic.
Learn which basic herbs every witch should grow to create your own Garden of Eden, as well as their healing properties and how to use them in recipes to create meals for all occasions. This practical guide will help you to enhance your everyday life with secrets, spells and witchery wisdom.