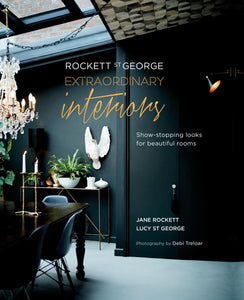 Rockett St George: Extraordinary Interiors
Jane Rockett & Lucy St George
Regular price $32.00 Sale
Show-stopping looks for unique interiors
Show-stopping looks for beautiful rooms.
Self-acknowledged design junkies Lucy St George and Jane Rockett launched their online interiors store in 2007. Ten years on, Rockett St George has revitalized the interiors market with their quirky, glamorous and distinctive collections. On offer is is a treasure trove of oddities and curiosities produced by designers and manufacturers around the world and a million miles away from mass produced chain-store products.
In this, their first book, Jane and Lucy share their insights and expertise when it comes to creating magical, inviting and imaginative interiors. Friendly and down to earth, they reveal how to create a home that reflects your personality, interests and passions so it truly makes you feel at home. Jane and Lucy start at the very beginning, taking the reader by the hand and offering sound advice on making the right style choices.
They go on to discuss finding inspiration, analysing a space, choosing paint colours and wallpapers, arranging and styling furniture, finding the right lighting, showing off treasures and making style statements that will stop others in their tracks. Illustrated with real-life homes, this stunning interiors book helps you to navigate the sea of choices out there when it comes to decorating, all with a dash of humour and a light-hearted approach that makes interior decorating fun.