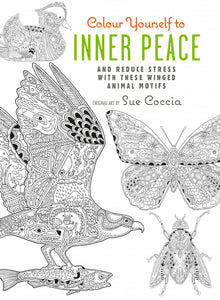 Colour Yourself to Inner Peace
Sue Coccia
Regular price $13.00 Sale
Not Currently Available
Discover beautiful artworks of birds and other winged animals from artist Sue Coccia in this anti-stress adult colouring book.
In the follow-up to Colour Yourself to Calmness, Sue Coccia presents a collection of original artworks that feature winged animals from around the world. Colouring in these stunning images will soothe and relax you, bringing you inner peace and calm. Colouring has become a form of art therapy, as well as a way to help you explore your creativity.
From waterfowl to birds to prey, as well as insects such as dragonflies, Sue's fascinating images reveal her deep connection to the animal kingdom that surrounds her at home in Washington State, USA. The drawings depict animal totems, which have deep spiritual meaning; by beginning to understand animals' qualities and traits, we can learn from them. Most people already have a favourite animal that they identify with, even if they cannot always express why.
Each artwork is drawn by hand: Sue chooses which animal to draw and plans the outline only in her mind, then begins drawing. She starts in the middle and works outwards, incorporating intricate imagery of other animals and nature, which are all connected to each other and to the main animal. Finally, she adds the outline, creating a spectacular, meaningful artwork.
As always, there is a ladybird hidden in every image: she represents good luck, happiness and prosperity!