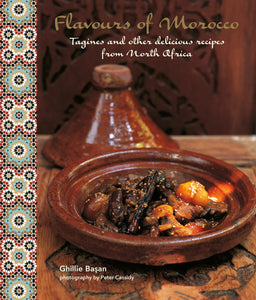 Flavours of Morocco
Ghillie Basan
Regular price $23.00 Sale
Not Currently Available
A collection of recipes for authentic Moroccan dishes that allows you to recreate the scents and flavours of this fascinating cuisine at home.
With such a rich and diverse history, which draws from the East, the Mediterranean and Africa, Morocco is home to the most tantalising food imaginable. Start your culinary journey by discovering Kemia (small bites) and salads, or enjoy flavour-packed soups, breads and savoury pastries. Try Rustic Tomato and Vegetable Soup with Ras-el-Hanout or Creamy Pumpkin Soup with Aniseed and Saffron. 
A chapter on tagines, kêdras and couscous features the popular Lamb Tagine with Almonds, Prunes and Apricots and Chicken Tagine with Preserved Lemons, Green Olives and Thyme; or try the grills, pan-fries and roasts to get magnificent flavour from your meat and fish. Delicious vegetables and preserves offer some vegetarian dishes and delicious sides for Moroccan spread, and you can even complete the meal with Moroccan sweet snacks, desserts and drinks.