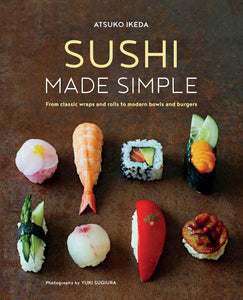 Sushi Made Simple
Atsuko Ikeda
Regular price £18.99 Sale
From classic wraps and rolls to modern bowls and burgers
A masterclass in sushi making from London-based teacher, Atsuko Ikeda, including 60 recipes for rolls, wraps, moulded and deconstructed sushi.
The word sushi refers to vinegared rice, which is used for any kind of sushi with raw, pickled, smoked, grilled or seared ingredients. In this beginner's sushi book, the simple secrets behind making good sushi are revealed, including how to select your sushi ingredients and how to make classic sushi rolls.
As well as traditional Japanese sushi recipes, Atsuko combines authentic knowledge and skills with contemporary ideas to offer a range of moulded sushi recipes—including sushi burgers and sushi cakes—and deconstructed sushi bowls. There are vegetarian and vegan sushi recipes and plenty of ideas for healthy rice alternatives too, including brown rice, quinoa and pink beetroot rice.