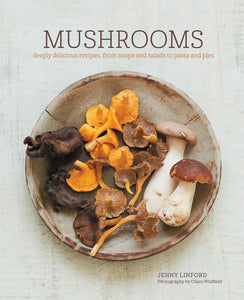 Mushrooms
Jenny Linford
Regular price $22.00 Sale
Deeply delicious recipes, from soups and salads to pasta and pies
A celebration of mushrooms and fungi—from folklore to foraging—plus a collection of more than 65 delicious recipes where fabulous fungi take centre stage.
Mushrooms come in an array of sizes, shapes and colours, making them a fascinating ingredient to cook with. From regular humble cultivated button and oyster mushrooms, to wild mushrooms such as chanterelles and porcini, and not forgetting the VIP of the ingredient world, the truffle – this book covers them all. Their distinct yet delicate earthy flavour goes perfectly with luxurious foods like steak and cheese, but also bring body, bite and satisfaction to light plant-based meals, making them popular among vegetarians and vegans.
In this cookbook, food writer Jenny Linford has created 65 mouth-watering recipes to make mushrooms the star of the show. From small bites and sharing plates to mushroom soups and stews, as well as meat, fish and vegetable dishes; you'll find quick, healthy and delicious mushroom recipes to suit every occasion! Woven into the recipe chapters are seven informative essays, with topics that range from how to grow mushrooms to mushroom folklore.