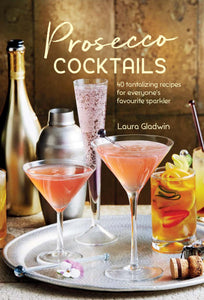 Prosecco Cocktails
Laura Gladwin
Regular price $11.00 Sale
40 tantalizing recipes for everyone's favourite sparkler
A collection of 40 delicious cocktail recipes featuring the hugely popular Italian sparkling wine that has taken social drinking by a storm – Prosecco!
With its crisp, zesty bubbles and light, fruity flavour, Champagne's perkier younger cousin is our favourite sparkling wine, hands-down. But what many of us don't realise is that those easy-drinking qualities we love so much are exactly what makes it a fantastic base for cocktails, too. And that's where this cocktail book comes in.
There are Prosecco-led twists on the classics, like the Kir Royale or Prosecco Mojito; sophisticated apéritifs like the classic Spritz or the strawberry-infused Rossini; absolute party barnstormers like the Sangria Blanca, infused with white peach and basil; and intriguing sweet treats like the Wild Berry Cheesecake or Sparkling Parma Violet. Whether you're hosting an action-packed hen party or a dainty baby shower, a sunny beachside barbecue or a festive Christmas drinks gathering, an intimate meal for two or a gossip-fuelled get-together, the true joy of Prosecco is that it's ideal for any occasion.