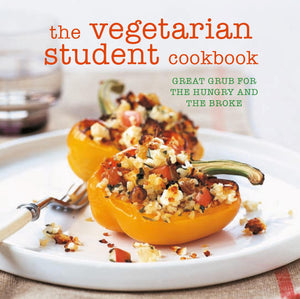 The Vegetarian Student Cookbook
Ryland Peters & Small
Regular price $13.00 Sale
The Vegetarian Student Cookbook will get you through your studies and become more valuable to you than any textbook.
You won't need lots of kitchen gadgets, hours in front of the oven, or a loan to make these recipes – they are all easy and cheap and designed to satisfy. Start with kitchen know-how: which essentials to stock up on so that you always have the foundation of a simple meal; tips on key equipment to buy; simple rules of food hygiene; and no-fuss tips for throwing together ingredients no matter how little is lurking in your kitchen.
Then tuck into the recipes! There are quick veggie snacks for essay writing sustenance, easy veg-filled meals that won't break the bank, sweet recipes for those late-night chocolate cravings, and tons of ideas for veggie comfort food too. This veggie student cookbook includes everything you could possibly want in your repertoire: mac 'n' cheese, omelettes, stir-fries, vegetable bakes, risottos and lots more.